Today I'm linking up with Lauren and Jennie to share some fun stuff from the past week.
1) Friday night Grant went to my in-laws house for the night while Husband and I enjoyed our Christmas present from my sister. Hockey tickets! They were really great seats and it was, for the most part, a great game...until they lost. Can't win 'em all, right? (Or even most, as this season is turning out).
2) After we picked up Grant Saturday evening, we went out for dinner with my in-laws. And since we were in the neighborhood-ish, we finally took Grant to the new Bass Pro Shop that opened. Husband's thought was that Grant would love their huge fish tank...and he really did...but we ended up spending over an hour in the store because it's actually kind of a fun place.
Rooooaaaar!
3) I was feeling crafty on Sunday and made a necklace for my sister out one of my Dad's old ties. One of Dad's favorite things was dressing up so when my sister found his old ties for me, I knew I had to make us both something from them.
Sister's pick of the ties. I think it turned out pretty well!
4) Tuesday evening was gorgeous and I had no plans for dinner. So right after we all got home we went right back out, swung through a drive-thru for a quick dinner and headed to the park. We ate dinner at a picnic table and then turned Grant loose on the playground until it got dark. So much fun! We'll definitely be doing that more.
5) I rarely make dessert to go with our meals. Desserts are typically a special occasion thing but I want to start making a treat to go with dinner every once in a while. It's difficult to do given Grant's dislike for cookies, brownies, cake, ice cream, etc. But the boy loves popsicles and snow cones. I found this on Pinterest ages ago for Jello Shaved Ice and whipped it up for a treat this week. Not only did it turn out as easy as the recipe sounded, it was good too! I say that as someone who absolutely despises Jello with every fiber of my being!
I made this using cherry lemonade flavor Jello. It was
easy that I made a grape one too.
HAPPY FRIDAY!
I hope you all have a great weekend :)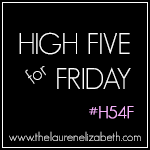 />